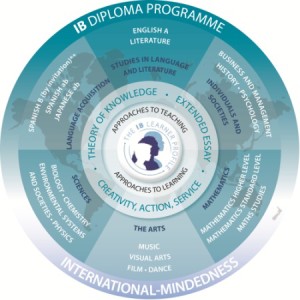 This is the time of year when many students preparing to start the International Baccalaureate diploma program (IBDP) next fall choose the subjects they will study. Solving this puzzle in a satisfactory way involves considering many different constraints, from:
the precise mix of subjects required to complete the IB diploma,
to what subjects you enjoy most,
to what options are available in which time slots at your school,
to what workload you can maintain,
to what career you think you want to pursue.
In addition, to keep options open for university choices later, you need to be aware of the IB requirements at universities where you might want to apply. Start by investigating the general IB requirements of universities in each country under consideration. The general IB recognition policies are listed by country on the IBO website.
Switzerland
Swiss universities accept the IB diploma if the student has chosen from a prescribed set of subjects and achieves certain marks. For example, no matter what course you choose to study, Math Studies is not accepted by Swiss universities, and the same is true in Germany.
UK, Europe, and Canada
Many bachelor courses in the UK, Europe, and Canada require students to have studied certain subjects at an advanced level. For example, the entrance requirements for a chemistry course in one UK university might require a 6 in HL Chemistry and a 5 in HL Maths or another physical science.
For specific entrance requirements, google the name of the university you are interested in along with "admissions requirements" and "international baccalaureate." Or, for UK universities, search by course and university on the UCAS website. Most universities around the world have both their general IB requirements and any specific course requirements listed on their website as, for example, does McGill University in Canada.
United States
In general, US colleges and universities are less concerned about which subjects you take for the IB and pay more attention to how well you do throughout the diploma program. Key exceptions are when applying to highly competitive universities or to study engineering or business.
The "top" universities in the US look for students taking the "most rigorous" curriculum and might not, for example, consider taking Sports Exercise and Health Science as rigorous as taking Biology, Chemistry, or Physics.
Some Engineering departments will expect you to have taken HL Math and HL Physics or Chemistry.
The most selective business schools also require very strong quantitative skills so pay close attention to which math course you took and what grades you achieved.
Students who intend to major in science will be better prepared if they have taken one of Biology, Chemistry, or Physics at H/L and, depending on the science, Mathematics at H/L. However, since many US institutions do not require a student to declare their major until the middle or end of the second year, students generally have a fair amount of flexibility to explore different subject areas and compensate for gaps in their earlier academic preparation.
If you have questions about IB course selections and university options, please leave a comment below or contact me directly.
____________
**  The Russell Group's Informed Choices guide says the following about applying advice about A-Levels to IB choice selection:
The guidance provided in relation to subject requirements shows which degree courses are likely to require an advanced level qualification in a certain subject. For IB applicants this guidance can be used to identify the degree courses most likely to require you to have studied a certain subject at the higher level within the IB.