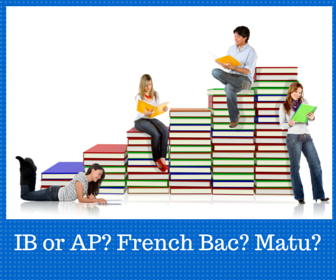 Parents on one of the email lists in Lausanne, Switzerland, recently raised some questions of more general interest about how US universities and colleges view the various high school diplomas offered in the region. Let me start by saying that specific responses to the questions raised depend on your child's profile and on how selective the institutions being targeted are.
In my experience, families living outside the US frequently limit the schools they consider to the most well-known and very most competitive – the Ivy League, Stanford, MIT, etc. – and I would caution you that any general answer is an over-simplification. Each of these schools has its own personality, its own quirky admissions process, etc. I'm assuming in my answers that these are the institutions that these parents were most interested in, but please realize that there are options in the US where pretty much any student can get a great education. Frequently those institutions won't have an international reputation, but if you dig a bit more deeply, their graduates can have better records of getting into graduate or medical school, for example, than big name universities.
How do U.S. colleges view applicants coming from IB schools, both within the US and abroad?  I have heard mixed reviews about whether they appreciate the value of the IB. Is it considered equal, better or worse than AP classes?
The reputation of the IB is constantly strengthening with US universities as they become more and more familiar with it, and as there is more and more data on how well prepared IBDP students are for university-level students. However, there are lots of caveats that can apply.
Not all IB diplomas are the same. Math Studies is not considered as rigorous as Math S/L or H/L, for example. When students apply to the US, their school counselors are asked to rate how rigorous their courses are when compared to other students at the same school, so a student with Math Studies is less likely to receive a "most rigorous" rating. If the student is applying to the most selective US colleges and universities, that could make a difference.

While the IB diploma is fairly well defined, AP students might have taken from 1 to even 10 or more AP courses. If a student started taking AP courses in the 9th and/or 10th grades (out of 12 grades), and has done very well in say 8 or more AP courses, then it is possible that some admissions offices might consider that a stronger record than a strong IB diploma. But, I don't know of any schools offering AP courses in Switzerland where a student could take that many AP classes.

The AP organization is also introducing a research/writing option similar to the IB extended essay in an attempt to seem more comparable but I have not heard if any of the schools in the area that have AP classes (CDL, Brillantmont, etc.) offer it.
Any advice for an IB student to make himself/herself more attractive to US universities?

Most of the advice I offer for IB students is the same no matter what diploma a student gets. The most selective US universities want:

the student to have the "most rigorous" curriculum taken by students at their high school,
very high standardized test scores (say 2100 on the SAT, 30+ on the ACT, 700+ on SAT Subject tests),
strong grades/marks/notes the last 3-4 years of high school (6s and 7s on the IB, few if any 5s; all As in an AP curriculum; 5+s for the Maturité),
good letters of recommendation from the school counselor and teachers (most important is not to have a less than positive relationship with teachers that results in lukewarm recommendations),
extracurricular activities that are preferably somewhat atypical of high school students while demonstrating initiative and leadership, and
essays that stand out.

But, what you need to realize is that each year the Ivies, Stanfords, and MITs receive so many applications from students like this that they can only admit a fraction of them. I monitor a number of professional email lists and Facebook groups where every year I read about students who fit this profile, applied only to highly selective institutions, and ended up with no acceptances. Think of it as a lottery and always have desirable back ups.
The other path into the most selective US universities is as a recruited athlete, an underrepresented minority, legacy connection (parent or sibling who has attended and is preferably a big donor), or as a VIP  (e.g., Emma Watson going to Brown, or family members of a celebrity or  important political figure, etc.).
Applying with an international background only goes so far. For example, most of the applications submitted by international school students in Switzerland go to the same 30 – 50 universities where they are read by the admissions representatives that cover Europe. Those universities receive more applications from students in Switzerland than from students living in rural Wyoming or North Dakota. It is important that a student applying from Switzerland stand out in that context.
Specific to IB students, I believe that the Extended Essay is a way some students can stand out from the crowd if the process leads to interesting content in their essays. Obviously the topic has to be something that the student can get full points on too.

How do US schools viewtheFrenchbac series SwhichtheLFNY offers and how do UScollegesviewthetheSwissMatura (maturite suisse) diploma?

The view on the French Bac S is complicated and I believe the answers may have changed over the past few years as the reputation of the Bac itself has become more mixed.
It focuses too little on logic or creativity, many complain, and too much on rote knowledge and the esoterica that thrill the Parisian cultural aristocracy. Some critics say it has grown too easy, with a pass rate of about 90 percent last year; others contend that it now serves as little more than an exceptionally inefficient way to weed out the least-proficient students."
I'll do more research on the French Bac when I attend the OACAC conference for international university admissions representatives and counselors in July. Two years ago a speaker at the conference recommended that US institutions not give advanced placement credits to students with the French Bac though I don't know how widespread that policy is now.
The Maturité Suisse is complicated for different reasons, and I tried to summarize them here: http://www.globaluniversitychoices.com/2012/09/27/ib-or-swiss-maturite-which-is-better/. The other issue is that students who are not educated in English usually do not score as well on the standardized exams, something that US admissions reps know but don't necessarily give much leeway for. What you need to understand is that the SAT and ACT scores of accepted students factor into the USNews rankings and most US institutions keep a close eye on those averages.
Students need to be in an environment where they can thrive both academically and socially, so general answers are necessarily superficial. I love talking to parents about their child's background and interests, so please feel free to contact me (mstelzner at globaluniversitychoices dot com) with specific questions. If your child is considering going to university outside of Switzerland, please sign up for my free periodic newsletter: http://eepurl.com/oK035.