The hunt is on. Although the CommonApp requires one main essay, many US colleges ask for additional supplemental essays that are unique to their application. This year, many of the supplemental essays are not in the Writing Supplement part of the application but instead are found in the main application. Apparently some colleges and universities had problems with Writing Supplements last year because students must submit the supplement separately after submitting the main application. Many students didn't realize there was a two-step submission process or forgot the second step.
Note that the following discussion may not make sense until after you have created a CommonApp account and added some colleges to My Colleges. This year, many schools opted to include their supplemental essays under Questions in the Application section (on the My Colleges tab) and don't have a Writing Supplement part of the application. For example, you can see below that Cal Tech has added a section called Required Short Answer & Essay Prompts.
Note that I cut off most of Cal Tech's questions and essay prompts. Syracuse University put their supplemental essays in the Application under Questions and then Other Information indicating that you need to check all the question sections. Other colleges, such as Brown, followed the traditional approach and the Writing Supplement is visible from the start.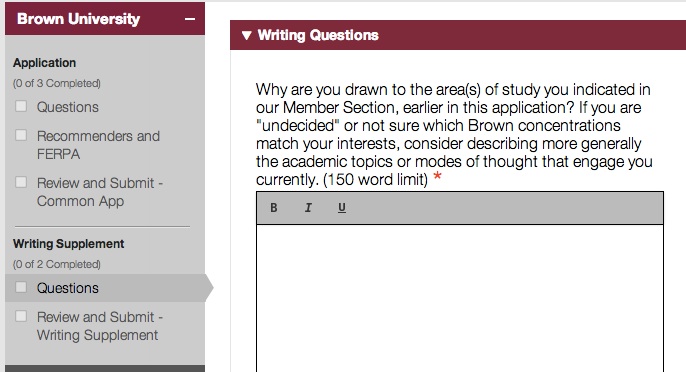 Students must carefully check each college's Questions in Common App to avoid missing some required essays until the last minute.  Colleges use these essays as one sign of how interested the student is in their institution and rushed responses might send an application to the deny pile.
To add to the challenge of finding all the supplemental essays, institutions such as Cornell ask different questions depending on which of their colleges or schools you wish to attend and the Writing Supplement does not appear until after you make selections in the Academics section. For example, many universities have an extra question for those applying to their engineering school. It is safest to complete the Academics section under Questions early on to be sure all questions are visible.
If you have questions about this, please leave a comment or contact me directly.